London Irish, since its inception, seems to have made itself a home from home for New Zealanders living, working and studying in the metropolis of London. As early as 1899, the Kiwi twang could be heard shouting for the ball on the pitch at the London Athletic Ground at Herne-hill, with the two extremely skilful players Arthur Boniface O'Brien and Patrick Francis McEvedy. Both were in London studying at Guy's to be doctors. They both travelled to Paris early 1900 with the club to play against Racing Club. They both regularly turned out for Guy's Hospital too, as well as Kent (Patrick played for Kent on over 70 occasions) and Ulster. They both took part numerous trial matches for both England and Ireland, with England stating that they wouldn't pick players with a Hibernian-New Zealanders background, despite them being the best players in their positions in the country. Although they were both selected as reserves for both countries but never made it on to the field. Despite this they both toured with the British & Irish Lions in 1904 (Arthur was the tour manager and player) and Patrick again in 1908.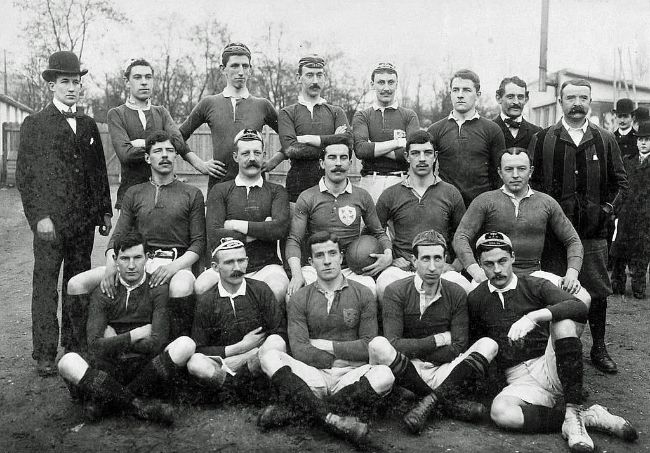 December 1900 – London Irish side to face Racing Club in Paris. Arthur is back right next to Martin Doyle. Patrick is front left sitting.
Picture from The French National Library
http://gallica.bnf.fr/ark:/12148/btv1b8433332t/f85.item.r=london%20irish%20rugby
At the start of the 1902 season they were joined by a third, Ernest Oscar Nees. He had been playing with Saracens before that. The move to Irish must have improved his game as within weeks of turning out for the club, he was invited and took part in a Middlesex county trial. Originally from Dunedin, he returned home in November 1903. In late 1908 he played for Otago against Southland in a Rugby league match. The Southland team included four All-Blacks. The result was a life-time ban from the New Zealand Rugby Union for all the players involved.
Ernest and his Otago rugby league team mates
The Original's (the New Zealand All-Blacks side of 1905-06) tour of the British Isles was a massive event in the history of rugby and London Irish were one of the first to see this. The fact that they were captained by an Irishman Dave Gallagher and featured a number of players of Irish heritage added to this. The touring side were welcomed to the club with each of them being granted honorary membership to the club. The club also invited the players to turn out for London Irish in a match. The Irish committee were very happy to announce that Stephen Timothy Casey and William Joseph Wallace of the "All Blacks", who were both of Irish decent, had accepted an invitation to play for Irish against St. Thomas's Hospital, at the home game at Uplands, Black Horse Lane, Walthamstow. They had also invited the whole squad out for an informal dinner with some entertainment thrown in.
The 1905 All Blacks
by
National Library of New Zealand
, on Flickr
A very large crowd turned up in the Essex town of Walthamstow to watch the two All-Blacks turn out for Irish. The crowd left disappointed after they both failed to appear, Billy Wallace had failed to recover from an injury obtained playing against France on New Year's Day. Irish won the match by three points to nil, but the match was not a classic with the pitch being blamed for the poor play from both the sides making a passing game almost impossible.
Despite the players failing to turn up Richard Dyas, represented the club at Waterloo train station, to wish the All-Blacks well on their journey home.
The 1960's saw a London Irish player make the journey to the land of the long clouds, when John T. Bamber follow his wife to New Zealand, were he played for Wanganui.
John T. Bamber
Jump to 1971, and Dean Paddy a New Zealand born dentist was living in London, and due to an injury to the 1st XV prop, was selected to play alongside Ken Kennedy for Irish against Streatham/Croydon R.F.C. That Christmas London Irish were given an extra present when a holidaying Oxford Blue and All Black Chris Laidlaw played for them on Boxing Day and New Year's Day.
In 1972, B. McElwee joined Irish from Saracens, and played against Blackrock College at Sunbury and scored a try which he also converted in a 24-3 victory. Later on in the year former All Black Doctor William Anthony "Tony" Davies, who was in London furthering his medical studies, arrived at The Avenue. He ended up being Irish's first attempt as the nominated coach, and started to train the first XV. He stayed with Irish until 1974. In October 1972 a third New Zealander arrived at the club in the shape of R. Bell-Booth, who had previously played for Auckland University.
When Ireland international Harry Rea, left Irish (ironically to take up a position in a doctor's practice near Auckland, New Zealand) in 1974, Tony Davies and Chris Laidlaw both attended to his send-off.
Harry Rea playing for Ontario
John Gallagher the famous World Cup winning All Black of the late 1980's played for London Irish U19's and also the Irish Exiles. His parents were from Derry and Limerick, and he was born and raised in Lewisham, and moved to New Zealand aged 20, he was picked to play for his adopted country within two years of arriving there.
The 1990's started with former All Black hooker Hikatarewa Rockcliffe "Hika" Reid as coach. This ended in disaster when Irish ended up getting relegated from Courage League One after winning only four matches. Hika lost the dressing room after dropping Simon Geoghegan when he arrived for the match against Bath, Ireland Internationals Jim Staples and Gary Halpin both refused to play for him. Hika and a number of players left the club soon afterwards.
Willie Anderson brought Isaac Fea'unati , the Wellington born Western Samoan No 8, to London Irish on a month's loan in November 1997, and he stayed until 2000. He suffered a serious knee injury in the play-off game against Rotherham in the end of the 1997-98 season, which restricted his appearances the following season.
Dick Best became the coach in 1998, a number Ireland International players had returned to the Emerald Isle after the sacking of Willie Anderson, so a re-build was necessary. The southern hemisphere was searched, and a number of New Zealanders arrived at Sunbury.
Amongst them was Christchurch born Stephen Bachop the Samoan and NZ All Black international fly-half, who played in 32 matches scoring 23 points before leaving for Leeds in 2000. On the aeroplane seat next to him was his friend (the late) Jarrod Cunningham, who was the league's highest scorer in the 2000-01 season with 324 points, he was born in Hawke's Bay and played for Auckland Blues and Wellington Hurricanes as well as being an All Black trialist (only Andrew Mehrtens kept him out). He played for the New Zealand Maori's v Ireland Development XV in 1997 facing amongst others Conor O'Shea, Niall Woods, Justin Bishop, Rob Henderson, Justin Fitzpatrick, Gabriel Fulcher and Kieron Dawson. He went on to make 82 appearances for the Exiles scoring 848 points. Hooker Michael Howe, born Opotiki, played 19 matches before leaving Irish for Newcastle Falcons in 2000. Auckland born centre Robert Todd who signed from London Scottish and went on to make 32 appearances before leaving in 2000 for Gloucester. Fairlie born former Waikato Chiefs Hooker Richard Kirke signed from Bedford and went on to make 165 appearances before leaving in 2003. Cambridge (N.Z.) born South Africa International scrum half Kevin Putt, he went on to make 27 appearances before leaving in 2000. Wairoa born flanker/lock Matthew Bird who had played for Hawkes Bay, and went on to make 7 appearances before leaving in 1999.
The following season Irish left Sunbury for the Stoop. In time for the following season they were joined by Palmerston North born, tight head-prop Simon Halford who went on to make 66 appearances before leaving for Leeds in 2003.Wellington born scrum-half with a stinging pass Offisa Junior Tonu'u, another Samoan and All Black international, who joined from the Wellington Hurricanes. He went on to make 20 appearances before leaving in 2001. Also signed at this time was loose-head, West Auckland born, Boris Stankovich who made six appearances before leaving in 2000. London Irish became the English Premierships first superclub in 1999, when they merged with Richmond and London Scottish, and the club started wearing their badges on their shirts.
The 2000-2001 season saw Irish leaving London, and moving to Reading to take over Richmond's tenancy of the Madejski Stadium. Jason Wright the Wellington born Richmond centre signed for the new club, making 19 appearances before leaving in 2001. He was joined by Fijian born All Black and Fiji international John Tabaiwalu Fakavale "Tabai" Matson who signed from Brive in France, and made 9 appearances. New Zealand sevens player Mark Di Goldi also signed. In the second row, Timaru born Glenn Delaney appeared, and went on to make 37 appearances before leaving in 2003.
2001 saw Auckland born Jeff Fahrensohn joining from Aurillac, having previously played for the Auckland Blues, and later became the first German International. He made 21 appearances before injury forced him to retire, and return to New Zealand.
The 2005-06 season saw Dominic Feau'nati the Samoan International from Wellington side Marist St Pats join Irish, he made 12 appearances before leaving in 2007 to join Worcester. Winger Sailosi Tagicakibau, born in Auckland, signed from the Chiefs, who went on to play 157 times scoring 285 points, before joining Wasps in 2014. Riki Flutey another centre signed from the Wellington Lions, he played on 48 occasions scoring 269 points, before leaving in 2007 and joining Wasps. One of the first things Riki did in a London Irish shirt was to intercepted a pass from Carlos Spencer of Northampton to run in a 50-metre score. A New Zealand A and New Zealand Barbarians prop with a rather famous Irish historical name Michael Collins joined from Waikato Chiefs, and went on to make 22 appearances before leaving in 2007 to join the Glasgow Warriors. Auckland born scrum half Benjamin John Willis popped down the A316 and signed from Harlequins. He had played for the New Zealand Academy and Waikato before moving to Ireland (his father was originally from Dublin) where he played for Blackrock and Leinster and was rewarded with an Ireland A cap. He made 15 appearances before leaving in 2007.
The next season saw Rodd Penny signing from Orrell. The Auckland born centre/wing played for Irish on a 102 times scoring 125 points before leaving in 2010 to join Saracens. Signed from the Highlanders another Samoan International centre Seilala Mapusua, the Samoan born, but grew up in Wellington, and went on to make 125 appearances and scored 105 points before heading to Japan in 2011. They were joined by a Auckland born prop and Tongan and Pacific Islanders international Tonga Lea'aetoa, who went on to make 88 appearances for Irish scoring one try. He left in 2009 for Toulon.
Wellington born Elvis Seveali'i joined in time for the 2008-09 season. He was a Samoan International who broke Irish hearts late in one game whilst playing for Bath, he broke away and scored the winning try just after Irish had taken the lead. He more than made up for it in his 3 years at Irish making 79 appearances and scoring 55 points. He left in 2011 and joined Bourgoin.
2010 saw Irish sign Auckland born Daniel Bowden, he had previously played for Northland, Otago and the Highlanders as well as Parma in Italy. He made 53 appearances before leaving Irish for Leicester Tigers.
The following season saw Hastings, New Zealand born Bryn Evans join the club from the Hurricanes. He had previously played for Hawke's Bay and the Blues and had made two appearances for the All-Blacks. He made 74 appearances for Irish before leaving for Biarritz Olympique in 2014. He was joined by former New Zealand rugby league international and England rugby Union International Shontayne Edward Hape, who made 12 appearance for Irish before leaving for Montpellier.
March 2012 saw Tongan born Halani 'Aulika sign from the Highlanders, he had emigrated to New Zealand when he was 17. Also in 2012 after coaching Nottingham R.F.C. Glenn Delaney headed back to Irish, this time as the forwards coach, eventually becoming temporary head coach during the 2014-2015 season.
2013 Upper Hutt born Blair Cowan signed from the Worcester Warriors on a 3 year contract. He went on to become a Scottish International in 2014. He qualified for them due to his mother who was born in Blairmore near Dunmore.
2014 Auckland born Chris Noakes signed from the Auckland Blues, he had previously played for Otago, Bay of Plenty and the Highlanders. He was joined by Palmerston North born Samoan and Pacific Islander international Daniel Leo, who signed from Perpignan and played 18 games, before leaving to join fellow Exiles London Welsh in 2015.
The World Cup saw the New Zealand All-Blacks using the new London Irish ground at Hazelwood for training prior to their semi-final match against South Africa.
Too much fanfare London Irish announced that they had managed to secure the services of Waikato born Tom Coventry as Head Coach. He had played 52 matches for Waikato, before becoming a coach at Otago University. After various coaching roles he became a coach at the Chiefs and co-head coach at Samao. The club also brought Clark Laidlaw back to the United Kingdom, having migrated to New Zealand in 2008, where he had worked at the Taranaki Academy, before taking up the position of Skills Coach with the New Zealand 7s team. He then returned to Taranaki in 2010 to as their Skills Coach before becoming Assistant Coach with the Hurricanes in 2013. The third of the new set-up is Grant Doorey who is the defence Assistant Coach, he had been a rugby league player. He joined Irish from the Auckland Blues.
This season 2015-16 saw Tokoroa born Scotland and British Lion player Sean Daniel Maitland join from the Glasgow Warriors. He was joined by Fiji born Aseli Tikoirotuma formerly played for Wanganui, where he spent five seasons, then moved to Manawatu where he played in the ITM Cup, finishing with Waikato Chiefs. Despite being born in Australia Ben Franks, played and won the World Cup with the All-Blacks, signed from the Hurricanes. Harlow in Essex born Matt Symons joined from the Chiefs, after moving to New Zealand in 2012. Part the way through the season the club signed Tom Halse a former Chiefs Development 15 and Counties Manuakau player and Tom Preece a former North Harbour Marist and Auckland B player. After joining mid-way through the season former Auckland Blues player Will Lloyd impressed early on, signing an extension to his contact in March 2016.
Unfortunately, it looks like for the second occasion a New Zealander over saw the clubs relegation from the top flight.
Next season we will see Hurricanes scrum half James Marshall joining the club, and Nelson born Edinburgh captain Mike Coman.