Justin Bishop needs very little introduction. He made 279 appearances for the club scoring 58 tries, registering 290 points in the process. He also made 25 appearances for Ireland scoring eight tries. He is now player/coach at Doncaster Knights. He kindly answered my questions:
What is your date of birth/place of birth?
08/11/1974 Crawley
When/where did you start to play rugby?
East Grinstead RFC
Have you always played on the wing?
Started off at Fly-Half
When did join London Irish and how many games did you play?
Started at U13s, so quite a few games since then
How many points did you score in your London Irish days?
Not sure but it must be on the website
What brought you to London Irish?
My Mother was Irish so it seemed like the natural place to go
Who did you room with on away matches?
Barry Everitt and Mike Horak
Who was your most difficult opponent whilst at Irish?
Rory Underwood as I was young and still learning the game
What was Sunbury like in your time playing there?
Like my second home
Which ground did you prefer to play on Sunbury, The Stoop or The Madjeski?
No contest, Sunbury of course
What was your favourite away ground?
The Stade Toulouse
What was your most memorable game for Irish and why?
The Powergen cup Final and we won it convincingly
Who do you consider was the best player you played with for London Irish and why?
Steve Bachop, was able to read a game with ease and possessed great skills
Who where the characters at London Irish in your time playing?
Gary (wallet) Halpin , Ken (legend) O'Connell, Phil (the tank) Murphy
You were with the club at the start of professionalism, how did this affect you?
Getting paid for something you love doing has to be the best job in the World
Dick Best is renowned as a hard task master in your opinion was this true?
True
How different were the coaching methods of Clive Woodward, Willie Anderson, Dick Best, Brendan Venter, Gary Gold & Brian Smith?
They all were very different but each of them had their strengths
Whose did you prefer (and why)?
I loved playing under Clive because we did not play with numbers on our backs
What was the strangest thing you have ever had to do in training?
Run with a weighted vest on as we trained for 1hr
Do you have a favourite Dick Best story?
He had some furniture delivered to his house and it was taken up to the second floor. After inspecting it he saw it had a fault so he shouted down to the delivery people to take it back. They said it wasn't their problem! Within a few seconds Dick, opened the window and threw the piece of furniture out of the window and it smashed on the floor in front of the delivery men
In your opinion which season had the strongest team?
2002
What are your memories of the Cup Final?
Scoring two tries!
Do you miss playing for Irish?
Yes, but you have to move on
When was the last time you attended a London Irish match?
The away match at Leeds this year
Do you have any favourite stories from your Irish days?
I have hundreds but one of my favourites was just winding up Kieran McCarthy every day
What are your lasting memories of London Irish?
It was like my second family
The professional London Irish team is no longer a team for Irish/Irish descent players, what are your feelings about this?
I think the game has moved on and to have a quality squad you need players from all over the world
Practically overnight London Irish went from a side full of Irish Internationals, to the League of Nations. How did this change the balance of the club?
There is still a core of Irish people and there always will be so they are able to uphold the Irish connection
Do you ever envisage London Irish building their own stadium?
Yes eventually!
You played for Ireland 25 times, how did it feel to pull on the shirt for the first time?
A huge honour
What was your most memorable match?
My first cap
Who do consider was the best player you played with for Ireland?
Brian O'Driscoll
Who was your hardest International opponent?
Jonah Lomu
Did you go on any overseas tours with Ireland? If so to where?
I was lucky enough to tour all over the world
What was your favourite international away ground?
The Millenium Stadium
Do you wish that you had the opportunity to play in Croke Park?
Yes
The IRFU had a policy of picking home based players, where you tempted to return to Ireland to play at this time?
I had offers but I did not want to leave London Irish
Did you win any other honours (Barbarians/Trial/County etc)?
Funnily enough I will be representing the Barbarians on March 18th at Bedford
Who was your biggest influence on your rugby playing career?
My mother!
Recently in an International Rugby News article it mentioned that your grandfather played for Ireland and a great uncle, and his son, chaired the IRFU, what are their names?
My grandfather was Thomas Dunn, my great uncle Samuel Irwin and son Sinclair Irwin
Thomas Dunn of NIFC played for Ulster (3-3) and Ireland (9-17) versus the New Zealand All Blacks in 1935
Do you feel that today's rugby players play too much rugby?
Yes
Are there any rules that you would like to see changed?
I would like to ban mauls from the game of rugby
You are now the backs coach at Doncaster Knights, how is it going?
Very well I am very much enjoying it
How good is the standard of rugby in National League One?
The physicality is up there with the Premiership but the skill level is a little behind
What do you prefer coaching or playing?
Playing
Is there a player at Doncaster that we should keep an eye out for?
Toma Toke – Loose head prop

What tip would you give a youngster who wants to be a rugby player?
Just enjoy yourself and work very hard on your individual skills
Where do you see yourself in 10 years?
Hopefully a successful coach at top level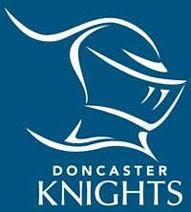 http://www.drfc.co.uk/home.htm
International record:
http://www.sporting-heroes.net/rugby-he ... HeroID=426
http://en.wikipedia.org/wiki/Justin_Bis ... gby_player
)