Rob Kellam's last match for London Irish was the play- off against Rotherham for survival in the Allied Dunbar Premiership, he went off in the second half after taking an elbow in the face which resulted in a fractured cheekbone. He was one of a number of players at that time that was promised a contract which failed to materialise. These days he is living in Western Australia, and has become a Referee. He kindly answered my questions:
What is your date of birth/place of birth?
4 Feb 1971, Southampton, Hants
When/where did you start to play rugby?
St Barts 6th Form, Newbury, Berks
Did you always play hooker?
Yes until I came to Western Australia, where I combined this with prop (loose and tight)
When did you join London Irish and how many games did you play?
1993 (from University of Portsmouth)
How many points did you score in your London Irish days?
It may take a while to add them all up, but probably in the region of 20 ! (if I'm lucky and it was 5 point tries when I started playing for them)
What brought you to London Irish?
A good friend and coach at my local club, Willie Phillips (ex-North Harbour and mate of Buck Shelford's) knew Hika Reid, who mentioned he was looking for a young hooker to train up thru LI 1st Grade. The opportunity to play at the club under Hika was too good an opportunity to turn down
What was training like under Sir Clive Woodward?
To me Clive was very 'empowering' in his attitude, and encouraged people to give it a go, expecting all players to want / be able to play like any other position. This was great for confidence, and made training and playing very enjoyable (albeit probably cost us more games than it won us thru a lack of pragmatism).
When Willie Anderson was brought in to initially work alongside Sir Clive, how did this affect the players?
This really gave a huge boost to work ethic and the aggressiveness of our attitude and play. Obviously a lot of the guys knew Willie and how he was respected from his past endeavours e.g. Dungannon, Ulster and Ireland, and I really appreciated the more simple approach that Willie bought to the game. I don't recall Clive and Willie working alongside each other for too long (Clive was already making his move to Bath).
He was replaced by Dick Best who is renowned as a hard task master, in your opinion was this true?
Where Willie worked us hard because he felt (and I've heard it repeated by other ex-forward rugby coaches), that to 'give pain' you have to have 'felt pain', Dick seemed to take a great delight in just causing us pain! He did seem to enjoy causing both physical and mental pain, with his biting sarcasm legendary. In saying this, you always felt the benefit of what he put us thru e.g. 20 x 250m with ~ 1min rest between each, just not at the time.
Who were the captain(s) of London Irish in your time there?
Pedro ? Collins (2nd row 1993), Gary Halpin, Conor O'Shea
Who was your most difficult opponent?
Gloucester front-row ensemble of John Deacon, Tony Windo and John Hawker
Where was your favourite away ground?
Leicester
What was Sunbury like in your time playing there?
This was easily the most memorable and favourite time of my rugby career...from the first sight of club staff and members on a Saturday morning, to an hour before kick-off heading into the changing rooms as the ground filled, to the fantastic yells and congratulations during and after the game, to belting out an Oasis song in the top bar with Hendo and all the members into the night amidst grateful offerings of Guinness
.
I'd never experienced such an atmosphere, and it still sends shivers down my spine thinking of how fantastic it was to be a part of it
.
Who do you consider was the best player you played with for London Irish?
At the time, it would have probably been Brendan Venter or Justin Bishop...of the players I still know are playing, I think Malcolm O'Kelly should be given the keys to Sunbury for his consistency and durability on the International stage.
Who where the characters at Sunbury in your time playing?
Gazza (fat balding bloke you couldn't always understand – Halpin, not Gascoigne) would have to be one of the biggest, with his long-standing comic partner Kieran Bird. Bishop was always entertaining in a camp-kind of way
.
You were with the club at the start of professionalism, how did this affect you?
I consider myself very lucky to have experienced rugby in the truly amateur, and then the 'semi-pro' (as I call it) days of London Irish. It was fantastic to have the opportunity to prepare yourself mentally and physically to a far greater level than you would have had otherwise.
Also (and it wasn't necessarily a great thing for the game or the clubs), being a new profession, I don't think people truly knew what they were expected to pay and provide players, what training / recuperation levels were the best etc. I think this gave more freedom and reward to players than they might expect now (obviously the top international players today are probably in a different league).
Do you still keep in contact with any of your old team mates?
Unfortunately no
.
The professional London Irish team is no longer a team for Irish/ Irish descent players, what are your feelings about this?
Being of non-Irish descent I don't want to appear a hypocrite, but I think a club for Irish / Irish descent players was a great thing in it providing an inherent 'feeling' around the club
.
However, any club in a domestic competition like the Premiership is going to limit its potential for championship success with a restriction on nationality – unless the organising body stipulates it (a longer-term view may be that this would be a good thing for the International team's prospects).
Do you have any favourite stories from your Irish days?
Boringly, none that I can recall (or mention) without fear of libel or defamation. If I had to come up with some, it would bound to have involved Gazza, Birdy, Bishop, O'Kelly, Woods (Niall), Hall (Colin), Fitzpatrick (Justin) and Redmond (Tony).
Only one I'll admit to (and why not !) is my first game for Irish against Quins at the Stoop...Halpin, Kellam and Donovan against Leonard, Moore (both recently returned from the Lions) and Mullins. Largely thanks to Gazza we sneaked one against the head in the first half (admittedly they took one back later). Feeling buoyed by this, at a Quins scrum on our 5m line I'd tightened my bind on Gazza and tried to squeeze up into Moore's windpipe before he struck (well it worked at U21). As he calmly struck the ball he whispered (or whistled due to all those missing teeth) 'don't be silly son !'
Around the pitch he played me off the park that day, but came up to me after the game and congratulated me on my scrummaging. Still makes me feel good thinking of that one.
Do you miss playing for London Irish?
Very much, although I probably sound an old fart by saying I'd prefer to be back there playing with the guys between 1993 and 1998, rather than in the full-time world with all the fit and fast players today.
How good was the London Irish side you played in?(or) Which season had the strongest team?
As a front row unit with Halpin and Donovan (closely followed by Fitzpatrick and Mooney), I think we had one of the strongest front rows in the league.
Did you play for any other clubs?
Started out with Newbury RFC (colts, 2nds and 1sts), Wasps (colts and U21), University of WA (1sts) and Nedlands (WA) (1sts)
.
How did the set-up at Newbury differ to London Irish?
Newbs was my first club (1988), where I learnt drinking games on both Fridays and Saturdays, and they shared single baths and painted all the changing rooms themselves
.
When I went back there after Irish (as captain), they were semi-pro and had fantastic facilities, pitches, ex-Wales coach (Kevin Bowring). The biggest difference was they were still only training 2 nights a week, players hadn't been at 1st Division clubs and so didn't seem to appreciate the attitude and effort that was required, and there still seemed to be the political infighting / interest in everything that was provided
Did you go on any over-seas tours?
Within 1 month of joining Irish we went on an O'Rourke sponsored tour to Canada, stopping in Newfoundland (ex-Irish coach with a team there but can't remember his name), Saskatoon and Vancouver. Played 4 won 4 and it was simply the best tour I've ever been on. Had a few pre-season trips to Ireland for warm-ups in Ulster and Leinster.
Did you win any honours (Barbarians/Trial/County/International etc)?
Capped at England U21, England U21 Students, England B
Benched at England Students
British Polys, British Students
Played for Western Australia (including game v British Lions), South West Division U21 and Seniors, Berkshire County U21 and Seniors
When was the last time you attended a London Irish match?
Last time I played, ~ 1998 v Leeds (or Rotherham) at Sunbury...came off with a broken eye socket ~ 15 mins from the end.
What are your lasting memories of London Irish?
Beating Quins at Sunbury, with Niall Hogan running the clock down with the ball at the back of our scrum
.
Hendo on stage leading choruses of any song the band could play
Woodward deciding our shirt numbers would be handed out in alphabetical order, rather than by position
Willie's (the Bag) truth sessions with the waste bin in the middle of the room
The screams from around the ground as Irish finished a great passage of play
Being humbled by a touring Otago side, led by a young Taine Randell who was apparently earmarked for the All Black captaincy (this is 1 year before he even played for them – that shows to me the fantastic attitude and approach NZ has to rugby and where they want the game to go)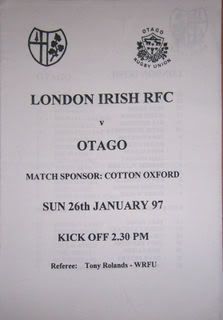 Has your old position changed since you played?
Are you trying to make me look an old fart!!!!! I really don't like the fact that many of the technical skills have gone from the hooking position. I know there are greater demands in many areas, but I used to take pride in putting my opposition's head on his leg so he couldn't hook, or working on changing angles with my props to make it very uncomfortable for our opposition. There is no doubt they are much stronger, bigger, faster now, so I am disappointed that a small guy doesn't get the chance to get even by other means.
Which modern day player would you have liked to play with?
I think Richie McCaw is head and shoulders above most other forwards in the world, and the chance to be on the same side as him at a tackle (unlikely to be at the same time, but here's hoping), would be a great experience of domination of opposition.
Do you prefer the rugby of today or when you played?
It's certainly more of a spectacle now for variety, time in play, physical confrontation in open spaces. But I'm and old forward, so I still get excited about a driving maul that lasts for 2 minutes, drives the ball 30m up the field and frustrates the pants off the opposition. I've just watched the first Super 14 game under the ELVs' and I think it really helped the game as an entertainment.
Do you feel that today's rugby players play too much rugby?
It seems that in the Northern Hemisphere this may be the case. I think the Southern Hemisphere have got a great balance, and certainly the games down here seem more energetic. Whether that's down to the number of games, or the climate, pitch conditions, training styles...I'm not sure
Who was your biggest influence on your rugby playing career?
Willie Phillips (see above – ex-North Harbour openside) for showing me what attitude can achieve
Hika Reid – for showing me that hookers can be flanker-like (not that I was)...and that competitive training games where the losers got punches in the stomach from the winners was an alternative but not necessarily refreshing way to go about things
Clive Woodward – that you shouldn't be scared of sounding a fruitcake if you truly believed in something that others couldn't see
Are there any rules that you would like to see changed?
I'm not sure about the new ELV where a team starting a maul and not producing the ball get free-kicked...also, I struggle with allowing hands in the ruck (especially if refs don't let you sort them out with your feet)
What was the funniest thing that you've seen on the rugby pitch?
I actually found this story in a book last year, and I was playing in the game!!!!! I think it was the 1st half v Leicester at Sunbury in a Pilkington Cup game, where the tannoy announcement came asking for the owner of a Volvo to return to their car as the ambulance couldn't get in / out. Ready to scrum engage, Gary Halpin stands up and runs off to the bench to explain where he'd left his keys
You are now living in Western Australia, what took you there?
Lifestyle. I was living near and captaining Newbury but travelling 3 hours a day to a sales job (with an old sponsor of London Irish – Paul Blundell) and wasn't particularly fulfilled in anything I was doing. I felt I still had something to offer rugby and that having been to WA I would enjoy the beach lifestyle and still possibly play at their top level at club and rep.
You are now a referee how did this come about?
Having played ~ 5 years at 1st Grade in Perth, WA, the Western Force came to town and so did all the younger fitter players. For once I didn't think 'I can still teach these blokes a lesson' and decided to hang up the boots for a while...oh, and also having a 5-year old daughter and 6-month old twins. I wanted to stay involved and although the idea of being under the spotlight didn't thrill me, I loved being around the game in a playing sense (rather than administrating). It also meant I had to stay fit, which has always been important to me
.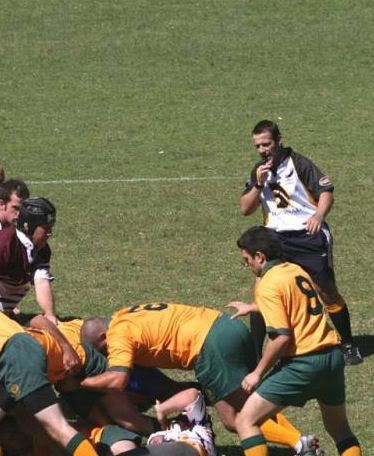 Does being a former player help you being a referee?
I think in my case it's invaluable, as I tend to see or sense things that are sometimes about to happen before they do. Surprisingly I am a bit of a hard-arse on players being silly or trying it on with me or the opposition, although in other senses my attitude is in line with Tana Umaga's comment of 'this ain't Tiddly Winks ref'. Let's just get on with it.
Can you give a brief resume of your career?
Probably bored the pants off everybody already, so concisely...
Clubs
Newbury – 1988 – 1993 (colts, 2nds and 1sts)
Wasps – 1989 - 1990 (colts, U21s
)
University of Portsmouth – 1990 – 1993 (1sts)
London Irish – 1993 – 1998 (1sts)
Newbury – 1998 – 2000 (1sts)
Nedlands (WA) – 2000 – 2006 (1sts)
Rep Honours
Berkshire County (colts, U21, Seniors)
South West Division (colts, U21, Seniors)
England U21, England U21 Students, England Students, England B
British Polys, British Students
Western Australia (including game v British Lions)