Kevin Burke left London Irish in May 2004 after being with the club for 5 years. He joined London Welsh, then spent the season before last he helped Harlequins win the First Division championship and regain promotion to the Premiership. He then rejoined London Welsh last season." Kidzilla" kindly answered my questions: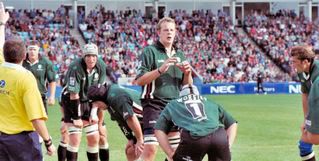 What is your date of birth?
16th December 1979
When/where did you start to play rugby?
I think I was around 9 for the local mini section at Aberavon Quins
Did you start out as a lock?
No, I started out as a number 8 and changed to lock at around 16
When did join London Irish and how many games did you play?
I joined in 1999 and played around 20 games
How many points did you score for London Irish?
Does a try against Bracknell in a pre season friendly count?!!
What brought you to London Irish?
Well, my dad is irish so he got me involved with the Irish Exiles setup. I was playing for them when somebody from London Irish was watching and invited me down for a trial in the pre season of 1999
Who was the academy coach when you arrived?
Well there wasn't really an academy system in place when I joined, we trained with the 1st team which was an awesome experience having just left school and definitely helped our development. Rowley Williams came on board half way through that season and dealt with the academy
How did it feel to play for the First XV for the first time?
It was an awesome experience to play, as soon as I turned up for that 1st pre season session its something you work towards
How did you find out that you had been picked?
Dick Best called the team out in a meeting
What was the training like?
It was very tough especially if we had lost a game on the weekend! Everyone dreaded that Monday session! Training full time was also a bit of a shock to the system I must admit! Dirk Williams (fitness coach) worked wonders on all the younger lads!!
Who did you room with on away matches?
Usually another second row so Strudders or Jeff Fahrenson
Who was your most difficult opponent whilst at Irish and why?
Would have to say the guy I played against on my debut Ian Jones. A true legend!
What was Sunbury like to play at?
I only played there in A league fixtures but I went to watch Irish play Bedford when they got promoted in 1996 I think! The place and atmosphere was brilliant!
Which ground did you prefer to play on Sunbury, The Stoop or The Madjeski?
The Madjeski for sure! The facilities and the atmosphere it creates especially on Paddys Day is brilliant!
What was your favourite away ground?
Kingsholm
What was your most memorable game for Irish and why?
Definitely my debut against Gloucester
Who do you consider was the best player you played with for London Irish and why?
Jarrod Cunningham. The guy was the most gifted player I've ever played with, so chilled out on and off the field. Some of the things he could do were unreal!
Who where the characters at London Irish in your time playing?
There were so many characters at Irish during the time I was there from Toddy and Jarrod when I first arrived to the ongoing feud between Jimmy Cockle and Nnamdi during the latter years!!
Do you still keep in contact with any of your old team mates?
Yeah most of the lads are online but speak to Bob and Flav regularly too. It was also good to catch up with a load of old faces at Jarrods memorial a few weeks back, Toddy, Zac, Bash etc.
Dick Best is renowned as a hard task master in your opinion was this true?
yeah I've certainly never encountered anything like him since anyway!
Do you have a favourite Dick Best story?
Well, there are many, most of which I wont repeat on here but we played Wasps in a Premiership game on a Tuesday night near Xmas at Loftus Road. All the non squad trained in the morning and as we had a few days off, a few of us decided to have a few pints in the Walkabout with the supporters! Well as you can imagine a few pints turned into a lot of pints and found ourselves watching the game but remembering very little! The following day we sat down for the debrief, Dick walked into the room and as soon as he sat down started asking all the boys who had been drinking what they thought of the game and how we could improve etc. He knew exactly who had been out and if it weren't for some outstanding lies and chewing gum we could have been in big trouble and out doing 250s all day!!
In your opinion which season had the strongest team?
I'd say the year we won the Powergen Cup in 2002. We played some outstanding rugby in that season when Brendan took over
Do you miss playing for Irish?
Yeah for sure. I made lots of friends at the club and it will always remain special
When was the last time you attended a London Irish match?
I came to the Bath game last season
Do you have a favourite story from your Irish days?
The day Dick gave me a 10kg weighted vest 2 wear during a training session. I asked him why I was wearing it and he told me that's how heavy I was when I arrived!!
What are your lasting memories of London Irish?
Macca!
What other clubs have you played for?
Harlequins (sorry)!! And London Welsh
You spent a season with Harlequins, how different was the set-up there compared to Irish?
Yeah it was a bit different. It was good to get coached by Dean Richards and Andy Friend. I learnt an awful lot from both of them
You are now in your second spell with London Welsh, how are things going for you at Old Deer Park?
Yeah things are going well. We made a lot of new signings in the off season and also got a new forwards coach. Alex Codling who used to play at Quins
What are your hopes for this season?
We have said we want to finish in the top 6
How tough is the rugby in the 1st Division?
Every season its getting tougher with most teams now full time
If you sign any player to play for London Welsh who would it be and why?
Jarrod in his day as mentioned earlier
Who has been the biggest influence on your rugby playing career?
2 people, Keith Crockett, head of rugby at Brynteg School and then Brendan Venter
Do you feel that today's rugby players play too much rugby?
I'd say yeah especially with all the tours that take place at the end of seasons, players aren't getting enough rest
Are there any rules that you would like to see changed?
I think referees play too much advantage after a penalty
What tip would you give a youngster who wants to be a rugby player?
Just enjoy yourself, train hard and always listen to people who give you advice