Michael Gibson, is one of the leading lights behind London Irish's current sponsorship deal which covers both the Professional and the Amateur teams. A few years ago he was the captain of London Irish, captain of Surrey and a Irish international. He kindly answered my questions:
What is your date of birth/place of birth?
Dublin. 3rd May 1954
When/where did you start to play rugby?
St Andrew's College, Dublin 1966 – 1972
Did you start out as a Number 8?
2nd year in Trinity College Dublin having been dropped as full back at the end of the previous season
When did join London Irish and how many games did you play?
Joined London Irish from Cork Constitution in Sept 1985. Finished at end 1990 /91 season
What brought you to London Irish?
It was the tried and tested landing zone from players immigration from Ireland
Who was the coach?
Mike Tewkesbury
How was the team picked?
Monday night selection committee of manager, coach, captain and 2 senior selectors
How did the set up at Lansdowne differ to London Irish?
The club and player involvement was closer and more intimate due to shorter distance/time that players and club officials s travelled to training matches etc. Also more likely that players knew each other from both school and university. Also club rugby did not cross provincial boundaries at the time and opposition players were well known to each other
How were you elected Captain and when were you Captain?
I was appointed vice-captain in 1985/86 to Paul O'Donnell. Unfortunately, Paul had to stand down and I took over in November. The following season I was appointed captain outright
What was the best/worst thing about being captain?
Best: Making selection/tactical decisions that were proved correct
Worst: Having to tell players that didn't train/pull their weight that they were not being considered for 1st team selection
Who did you room with on away matches?
No one in particular
Who was your most difficult opponent and why?
Donal Spring on the odd occasion that I had to play against him as we played for Trinity and Lansdowne together
Alan Martin, Wales as had height and agility
What was Sunbury like in your time playing there?
Marvellous with stoical supporters hanging over the side lines urging us on
What was your favourite away ground?
Franklin Gardens, Northampton and Recreation Ground, Bath
What was your most memorable game for Irish and why?
We played Wasps on a Sunday at Sudbury and beat them easily against all the odds. Many players and supporters stayed on well into the evening at the bar singing every Irish song we could recall
Who do you consider was the best player you played with for London Irish and why?
Jim Staples. Jim's commitment was monumental. He and Tom Hennessey travelled up to Sunbury from Kent and would frequently get home after midnight. Jim's commitment and bravery on the field was also memorable and set the standard and tone for everyone else
Who where the characters at London Irish in your time playing?
Eamonn Brennan, Noel McCulla, Paul Bell
Do you still keep in contact with any of your old team mates?
Yes
If rugby had turned professional in your time playing would you have turned Pro?
Yes undoubtedly, after university though
Do you miss playing for Irish?
Yes for a few years after I retired but not any more
When was the last time you attended a London Irish match?
London Irish v Worcester at The Madejski at end of last season
The professional London Irish team is no longer a team for Irish/ Irish descent players, what are your feelings about this?
An inevitability of change and onset of professional era. Better to stay in existence than die out. Remember the dinosaurs
You played for Ireland 10 times, how did it feel to pull on the shirt for the first time?
As you would expect, it was exceptional. Standing to the National Anthem was eerie as it was peaceful yet invigorating at the same time. I had been warned by the experienced players to enjoy every minute as the game would go by so fast. They were absolutely correct
What was your most memorable match?
First game for Ireland v France at Lansdowne Road in Jan 1979. The result was 9 – 9
Who did you usually room with?
Another forward usually , Moss Keane, Colm Tucker, Ginger, Willie Sexton
Who do consider was the best player you played with for Ireland?
Fergus Slattery
Who was your hardest International opponent?
Marc Cecillon, France
Did you go on any overseas tours with Ireland? If so to where?
No but I did tour France with the Irish Shamrocks team that defeated a French team in Auch in Spring 1988
What was your favourite international away ground?
Cardiff Arms Park
Do you wish that you had the opportunity to play in Croke Park?
Not really. It was not an option in our day and therefore we did not think about it
Which modern day player would you most liked to play with?
Richie McCaw
What other clubs have you played for?
Trinity, Lansdowne and Cork Constitution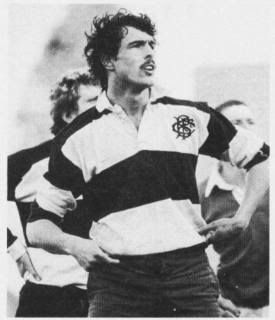 Did you win any honours (Barbarians/Trial/County/Inter-provincial etc)?
Barbarians, Irish Wolfhounds, Scottish Co-optimists, Welsh Crawshays, Leinster, Munster and Surrey
Who was your biggest influence on your rugby playing career?
Roly Meates, Coach Trinity
What was your profession before/during/after playing rugby?
Technical Operations Manager, Europe for Guinness International
Do you feel that today's rugby players play too much rugby?
In the UK, Yes, but in other countries No
Are there any rules that you would like to see changed?
Not rules as such but the constant talking of referees which only encourages players, especially captains to talk back. This is now down to a fine art by certain players who undermine and consequently intimidate certain refs. The constant challenge on every decision should be outlawed and like in tennis the captain can have three opportunities in a game to question decision. Currently the objective is to slow down the game by questioning everything
Also any player that acts/squeals to get another player sent off/sin binned should be sin binned themselves
Do you think that the English Premiership should ring-fenced?
No not necessarily
Why did you stop playing rugby?
Family and business commitments
Apart from supporting/ the sponsorship deal are you still involved in rugby?
Yes as Manager/Coach of London Irish Under 16 squad next season
Do you ever envisage London Irish building their own stadium? If so where would you like to see it built?
Yes definitely.
I see a ground share solution with another sports club in West London as a necessity
As I understand it, you are responsible for the current Llanera sponsorship deal (and if I'm not mistaken the Guinness one before it), how important was it for you to include the Amateur club in the deal?
John O'Leary the Irish golfer played a big part in the early negotiation. Llanera would not have been interested in sponsorship if Amateur Club was not involved. John and my approach to LI ensured that this was both plausible and feasible