Nnandi Ezulike joined London Irish from Leicester in 2000, he played for 2 seasons before departing for Worcester (where he was joined by a few of his London Irish team mates). This former flying winger who is now a broker in the City kindly answered my questions: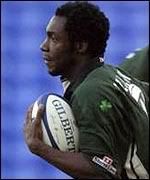 What is your date of birth/place of birth?
Feb 16th 1977...Enugu, Nigeria
When/where did you start to play rugby?
At prep school in St Martins school...started at 6 yrs old
Did you start out as a winger?
Yes...
When did join London Irish and how many games did you play?
June 2000...not sure how many games
(26 games)
How many points did you score in your London Irish days?
not sure....
(12 tries)
What brought you to London Irish?
The way they played rugby at the time was very expansive, the craic and always seemed to be a good atmosphere at their games
What was the training like?
Training under dick best was very interesting to say the least!!! Was very hard at times, but helped to bond the team together as a means of getting through it!!!
Who was your most difficult opponent whilst at Irish and why?
Ryan O'Neil at Harlequins, he was very quick....
What was Sunbury like when you played there?
Never played for Irish, but when I was at Leicester it was an intimidating and passionate crowd. But after the games it was always fun, with all the music and the boozing....
Which ground did you prefer to play on Sunbury or The Madjeski?
The Madjeski for its facilities and probably Sunbury for the atmosphere
What was your favourite away ground?
Welford Road
What was your most memorable game for Irish?
My first St Patrick's day fixture against Northampton
Who do you consider was the best player you played with for London Irish and why?
Jarrod Cunningham, his vision and ability to beat players (even though he did not have the pace he used to) was something that was special....
Who where the characters at London Irish in your time playing?
Too many to mention, but James Cockle, Chris Sheasby, Neil Hatley, Justin Bishop...the list goes on, club was full of characters...
Do you still keep in contact with any of your old team mates?
Yeah, James Cockle and Matt Oliver mainly
Dick Best is renowned as a hard task master in your opinion was this true?
Yea definitely, it helped make training very interesting to say the least....
Do you have a favourite Dick Best story?
I remember one day Dick was in a bad mood for some reason and Dirk, our fitness coach, came and warned us all saying "today is all about survival"...he was right as well!!!
In your opinion which season had the strongest team?
My 2nd year was a strong side under Brendan Venter, but I didn't play much....
Do you miss playing for Irish?
Miss the banter, not necessarily playing....
When was the last time you attended a London Irish match?
Last years opening game at Twickenham
Do you have a favourite story from your Irish days?
Too many and don't think you could publish some of them....mostly centred around the 3 Kings pub in Twickenham...
What are your lasting memories of London Irish?
Mainly the party atmosphere after the games and the great craic
What other clubs have you played for?
Leicester and Worcester
How different was the set-up at Leicester compared to Irish?
Leicester was more professional at the time and a lot more serious....but Irish seemed to be more about fun
Did you win any honours (Barbarians/Trial/County/International etc)?
Played England A and 7s....
Do you still watch rugby?
yeah, watch loads of it...
Which modern player would you have liked to play with?
Dan Carter..
Who was your biggest influence on your rugby playing career?
A guy called Ian Smith, he coached me at school and took me to Leicester Tigers where he coached and played
What was your profession before playing rugby?
Student, so basically nothing
Do you feel that today's rugby players play too much rugby?
Northern hemisphere teams definitely do, think the southern hemisphere manage their international players better
What tip would you give a youngster who wants to be a rugby player?
Have fun even though it is professional....
When did you stop playing rugby?
3 years ago
Are you still involved in rugby?
No not at all
What is your occupation now?
I am a broker in the city