Richard Kirke played 165 games for London Irish between 1998 and 2003. He was part of the Cup winning team and played for England A on a number of occasions. Now living back in his native New Zealand, he kindly answered my questions: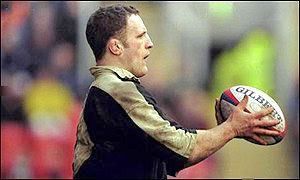 When/where did you start to play rugby?
I first played rugby, like a lot of kiwi kids, in bare feet on frosty paddocks when I was five years old
Have you always played hooker?
No. When I was a school kid, I played open side until I was 15, then was promoted to tight head prop. It wasn't until a year after school finished that I became a hooker.
What brought you to London Irish?
I originally signed a two year contract with Bedford in 1997. After one year there (in which Bedford was promoted to the Premiership), issues surrounding payment of my wages led me to pursue London Irish for my future rugby playing days
What was the training like?
Before I arrived in the UK I had had very few serious injuries. The amount of rugby and training I found very challenging, however it did improve my game and I felt ultimately the structures that were being put in place at the time I left the Club were leading to better performances by most players
Who was your most difficult opponent and why?
Richard Cockerill. He never stopped yapping, and was very difficult to get on top of as he had good players around him and he himself was physically strong
Who did you room with on away matches?
I made the mistake in my early days at the Club of rooming with Neil Hatley. I think I was the first to experience the 'Hatley Rumble' - which explains why he now always has a room by himself.
What was Sunbury like in your time playing there?
Sunbury, whilst being a fantastic venue, where I had many a fun time after the game, was set up for amateur rugby. Dick Best, of course, was the coach during this period, so I have memories of many a flogging pre and post games. Overall, however, some of my best memories at London Irish stem from Sunbury (beating Leicester in a mid-week night game in 1998/9 will stay with me for a long time)
How different was playing at the Stoop and the Madejski?
Both services were fantastic. The Stoop is relatively exposed to wind, whilst Madejski Stadium is hard to fault regardless of the weather.
Which did you prefer, Sunbury, The Stoop or the Madejski?
Madejski. Great facilities, shame about the drive time and Sunday games
What is your most memorable game and why?
Beating Leicester at the Stoop 47-7 in a Cup game. They had all their stars and we could not put a foot wrong
What are your memories of the Cup Final?
Perfect weather, the most amazing start to a game, hearing the Fields sung at Twickenham and seeing Matt Dawson in a shoving match with Budge Poutney at half time. It was a beautiful thing.
Where was your favourite away ground?
The Stoop. I never lost there.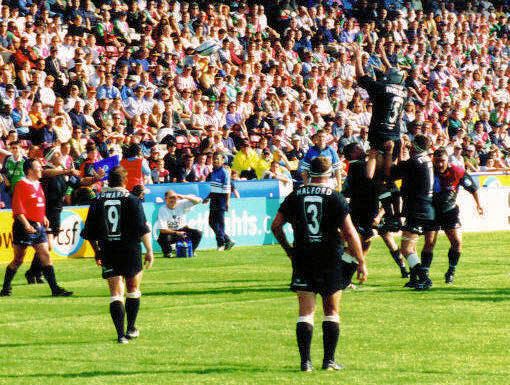 Lineout at his lucky ground!
Who do you consider was the best player you played with for London Irish and why?
Jarrod Cunningham. In his first season with us, he made such an impact on the Premiership that he and Conor had to share roles. We at that time had the best two fullbacks in Europe. Jarrod's ability to pick a line and hit the ball at pace was mesmerising.
Who where the characters at Sunbury in your time playing?
Rob Hardwick aka LaLaa (the King of Kit), Beefy (always quick on the draw), Dick Best (more metaphors than any man I've ever met)
Do you still keep in contact with any of your old team mates?
Absolutely. We just had the Gallachers stay with us for a week (they now live in Sydney), and the Halfords stayed with us last weekend and we see the Feaunati's when they visit New Zealand, and with the Fahrensohns living in Auckland, we keep in touch with them as well. We also regularly keep in touch with Conor and Beefy, as well as intermittently others in the UK
Dick Best is renowned as a hard task master in your opinion is that true?
Yes. I think Besty had a formula which involved getting the players to unite against him. Sometimes the science of his training methods escaped me, but in reflection he brought London Irish to a new level
Who was the best coach you played under at London Irish?
Brendan Venter. In Brendan's first year with us, he brought a simple philosophy and energy that, after the oppression of the Best era, meant we had great success. I think in his second year, he tried to take us to a new level again, unfortunately I think things became a little complicated
Do you miss playing for London Irish?
Always, however the body would no longer tolerate it
As a player how frustrating was the front row rotation/substitution system used by the Doc?
I was a fan, I think the front row coming on at half time generally added some energy to the game. It also kept us fresh
What are your lasting memories of London Irish?
Besty giving us a flogging whilst Bach was yelling out 'Don't worry boys, he's not a coach - he's justa chef'. Nights in the top of the grandstand at Sunbury. Macca's salt consumption. Dawso's ability to be injured most of the season and still win Player of the Year. The Three Kings. Winning the Cup. Making Europe. Lifelong friends
You played Super 12 rugby before joining Irish, how different was the standard of rugby compared to the Premiership?
I had limited exposure to the Super 12, but as a forward the Premiership standard at the time was right up there. The difference was possibly in the athleticism of the backs, I think New Zealand benefits from the Polynesian influence in this respect
How easy was it to settle into English rugby?
At Bedford it was very difficult, they just ran us and ran us at training. As a result, I lost nearly 10kg and a lot of my speed.
What other clubs have you played for?
Hamilton Marist from 1989 until 1997. I briefly played for Ponsonby when I returned from London Irish
.
Did you win any honours (inter-provincial/county/Barbarians/Maoris/Trialists etc.)?
I played for New Zealand Marist, Waikato, Auckland, and the Canterbury Crusaders.
You played for England 'A' how did this feel?
I felt something of an outsider, but was pleased to be part of it
When did you stop playing rugby?
2003. I was playing for Auckland in the NPC and couldn't stay fit
Do you still watch rugby?
Yes, my interest is now starting to grow after initially not having a desire to watch it
When was the last time you attended a London Irish match?
Versus Bristol at Madejski Stadium in 2003 (a game we won, securing Premiership for the next year)
Which modern day player would you most liked to play with?
Carl Haymen
.
Has rugby changed much since you stopped playing?
Yes it has, players are much more likely to offload in the tackle and from the ground.
Do you feel that today's rugby players play too much rugby?
Yes, I think the public are at risk of being 'rugbied out', as well as the players
Are there any rules that you would like to see changed?
Yes. Rucking should be encouraged - this will speed up the game and help prevent defences being so organised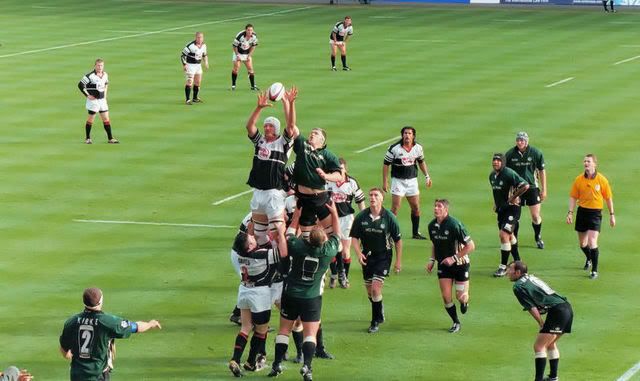 What was your profession before becoming a professional rugby player?
I was a Corrosion Consultant with Natural Gas Corporation - not something that I will ever return to
Who was your biggest influence on your rugby playing career?
I had many mentors, but ultimately my mother constantly encouraged my participation until I left school, and then she suddenly started to worry that I'd get hurt. She was too late to influence me then
You played for Canterbury & Wiakato, which was the better side?
They were both very strong sides at the time, and both won the NPC during the period I was playing
.
How hard was it playing away games in Australia and South Africa?
In the early days, the rule interpretations of (especially the South African) referees meant we often felt that we were being shafted. The South African scrums were definitely stronger than in New Zealand
Did it take long to get use to the different time zones and get ready for playing?
2-3 days was enough
Who was your most difficult opponent in the Southern Hemisphere?
Sean Fitzpatrick, did everything at a pace that meant I was always chasing the game
What is your favourite New Zealand ground?
Eden Park
What tip would you give to a youngster who want's to be a rugby player?
Keep balance in your life
You are living back in New Zealand, what are doing for a living now?
I work for a company called CB Richard Ellis (a global commercial real estate firm). I am the MD of an office on the North Shore in Auckland