Adrian Flavin left Irish at the end of last season after playing for every London Irish side from the U6's to the First's. Flav is now plying the dark arts of hooking in the green of Connacht. He isn't used to the phrase yet but this
'ex- London Irish player'
very kindly answered my questions:
What is your date of birth/place of birth?
6th of June 1979, Harrow
When/where did you start to play rugby?
I started playing rugby at London Irish aged 5 1/2 years old
Have you always played hooker?
No, in my mini days I played full back and flanker, then in youths I moved into the front row playing Loosehead Prop, before settling at hooker around 16/17 years old
When did join London Irish and how many games did you play?
I joined the 1st team squad straight from school at 18 and played 85 games I think!
How many points did you score in your London Irish days?
A massive 10 points! They came from 2 tries, not 5 conversions!
What brought you to London Irish?
From the Mini rugby side of things it was my Mum and Dad who brought myself and my 2 brothers (Andrew and David) down to Sunbury every Sunday for years! From a professional side of things it was Willie Anderson who gave me my first Professional Contract.
What was the training like?
Having played under 6 different Director's of Rugby in my time at London Irish, I experienced all sorts of training! Ranging from visualisation and Yoga, to running twenty-two 250metre sprints as PART of training!
Who did you room with on away matches?
I had a few room mates! If it was based alphabetically I would always get either Jeff Fahrenson (which would mean he'd always get the double bed!) or Barry Everitt (which would mean there would always be food in the room!) I always felt sorry for Michael Haslett who wasn't as lucky as me, he would have either Rob Hardwick (liable to eat all your food!) or Neal Hatley (liable to eat what was left!)!!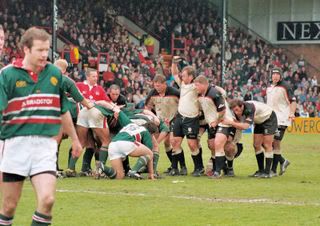 Flav in between 2 small eaters!
Who was your most difficult opponent whilst at Irish?
Frederico Mendez was a pretty tough customer!
What was your favourite away ground?
Kingsholm, experiencing The Shed was always enjoyable
What was your most memorable game for Irish and why?
Two games stick out, both against Leicester. The first was when I made my debut in 1997 at home, the second was in 2003 (I think!) when we beat a full strength team up at Welford Road with a very young team! Great result!
Who do you consider was the best player you played with for London Irish and why?
Jarrod Cunningham. He could just beat people as if they weren't there, he had the vision that many people dream of and was an all round outstanding footballer
Who where the characters at London Irish in your time playing?
In the early days it would've been Gary Halpin, then Jimmy Cockle and then Bobby Casey
Do you still keep in contact with any of your old team mates?
Yes, loads! Obviously all the boys who still play there! Plus Jimmy Cockle, Doug Wheatley and Jarrod Cunningham! I'm playing with Ryan Strudwick aswell and caught up with Kieron Dawson, Kieran Campbell and Justin Fitzpatrick when we played Ulster.
Dick Best is renowned as a hard task master in your opinion was this true?
Ha Ha! I saw Dick only last week so will have to answer this one carefully! All I can say is that he had a very unique vision on training, that focused intensively on Cardiovascular Fitness and Contact Skills!
Who was the best coach you played under at London Irish?
Toby Booth. His knowledge of forward play is exceptional and would always push you to get the best out of yourself!
How good was the London Irish side you played in?(or)which season had the strongest team?
Last season's team would have to be up there with the Powergen Cup Final team. Both had talent to spare and played rugby with no shackles!
How different was playing at Sunbury compared to the Stoop and the Madejski?
Sunbury was amazing as the pitch was so close to the crowd! A full Sunbury would give you goosebumps! The Stoop was a step up in terms of Stadia and the Madejski was a step up again in terms of facilities and playing surface.
Which did you prefer? And which had the best atmosphere?
I preferred Sunbury although Madejski would be a very close 2nd! When you jog around the pitch at Reading during the warm-up, with 10,000 supporters chanting "Irish..Irish"! It's a pretty special feeling!
Did playing for London Irish affect your International career?
Yes, it helped me to get into the Ireland U-19 and 21's
Do you miss playing for Irish?
Although I'm very happy where I am, I do miss playing for London Irish, I was there for 21 years!
When was the last time you attended a London Irish match?
The last home game last season Vs Sale
Do you have any favourite stories from your Irish days?
Too many to mention! You'll have to wait for the book!
What are your lasting memories of London Irish?
I played for my childhood club! That's memory enough!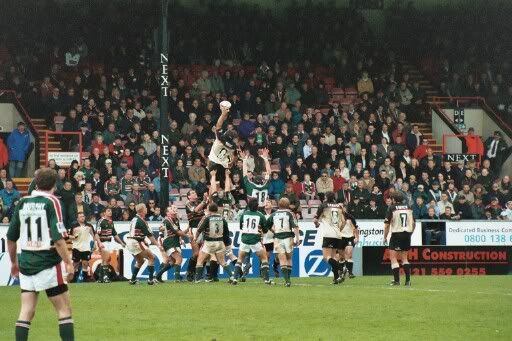 Hitting his target against Leicester
Did you win any honours (Barbarians/Trial/County/International etc)?
Ireland U-19 and 21's
How did it feel to win the U19's World Cup with Ireland?
It was an amazing day! We had a cracking team and to beat France in the final, IN France was great!
How different is the set-up at Connacht compared to Irish?
It's very similar in fact. Each province is "Housed" by the IRFU so all the facilities are first class
How different is playing in the Celtic League compared to the Premiership?
It's a bit more open, the Premiership seems to be alot more defensively minded
Which do you consider is the best to play in?
To be honest, I'm enjoying playing in the Magners League a bit more!
Who was your biggest influence on your rugby playing career?
My family! My Mum and Dad for ferrying me all over the world and watching me play! My brothers for giving me support when I'm playing and my Wife for putting up with me when we've lost or I've had a bad day!
Do you feel that today's rugby players play too much rugby?
Since I've been in Ireland I have noticed that we play alot less due to all players being centrally contracted! (Although I don't want to get involved in all that!)
Are there any rules that you would like to see changed?
None, that I can think of! However I would like to see the rules already inplace stuck to! A professional foul in the 1st 10 mins of the game should be a yellow card, just as when it is committed in the last 10 mins of a game!
Do you think that the English Premiership should ring-fenced?
No, it brings excitement to the league.
What tip would you give a youngster who wants to be a rugby player?
Never give up on trying to achieve something you want to achieve!