Jeff "Speedboat" Fahrensohn is a lucky man, a few years back I had to tell him how to cook his Christmas turkey and apparently it came out great. Now after returning home after suffering a career ending back injury, he is returning the favour. Here is Herr Fahrensohn's interview:
Playing against L'Aquila January 2002
When/where did you start to play rugby?
Suburbs Rugby Club, Glendene, Auckland aged 5 Stopped playing when I was 14 and started playing basketball. I ended up playing 5 years in the NZ national league for Waitakere Rangers and Wellington Saints before being lured back to rugby in 1995. I was in my mid 20s before I played my first senior mens game!
Have you always played LOCK?
Started on wing as a kid. Years later I was stuck into lock when the coach saw me two hand reverse dunk the ball over the cross bar.
What brought you to London Irish?
Dick Best offered me a contract for 2000-2002 and I had a mate, Simon Halford whom I'd played with at Harbour that told me good things about the club,supporters, the craic etc...What he didn't tell me was the coach would beast the players sunrise to sunset! You just can't trust bloody Farmers!
What was the training like?
Training was always hard! I was never a big fan of fitness work but it was part of the game and along with the other tighties, I would do just enough to keep the trainer happy.
I spent my career perfecting the optical illusion of running while in actual fact I was asleep on the soft green grass... My ideal fitness session would be Tai Chi on a beach in Thailand.
As for contact training, we were always told from a young age that if you didn't contact train at 100% then injuries would occur. Any player will tell you this is true! This is what I coach my kids today...
Who was your most difficult opponent and why?
In the premiership it would have to be Steve Borthwick. He was always super fit and a mobile lock which meant I had to try and keep up. He would always compete at every lineout. Every time I jumped I saw his face in front of mine! Locks don't like that. We like the ball thrown to us without any distractions! ha ha
As for truly difficult opponents...You can't go past Jimmy Cockle in your own team! Or anybody else who Sharts in training and doesn't leave the field!
Who did you room with on away matches?
At London Irish I was usually lumbered with another tightie! It was usually ok unless they arrived back late after eating junk food or curry and all hell would break loose! Actually it became quite competitive after awhile and watery eyes was an occupational hazard on away trips. Occasionally I'd get lumbered with a back which I'd have to relegate to tea making and snack gathering duties.
What was Sunbury like in your time playing there?
Sunbury wasn't used to play premiership matches when I was there however it was an excellent training venue and when we played preseason games the atmosphere was great. I have fond memories of the grounds there... Like urinating in front of strangers into a sample cup or dunking your body into an ice filled barrel in the name of recovery...Great memories!
(I even had the pleasure of smashing the backside of Johnny Knoxville and getting a cameo on "Jackass" at Sunbury.)
Jackass on International Rugby News
How different was playing at the Stoop and the Madejski?
Played all my home games at Madejski. A world class facility and excellent field in all weathers. I only ever played at the Stoop against Harlequins and have mixed feelings about it...Say no more.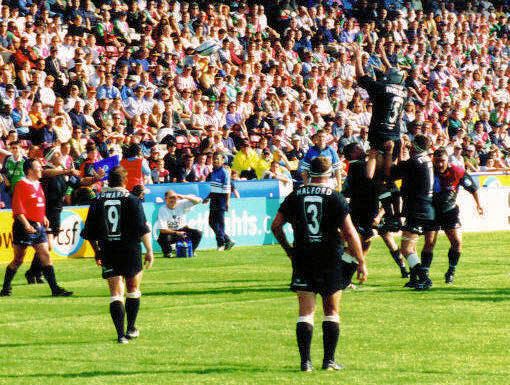 Winning a lineout against Quins
Which did you prefer, Sunbury, The Stoop or the Madejski?
Madejski was awesome to play at, especially when the supporters were in full voice (Both during and after the games)! I did have one bug bear about Madejski... Did you know that you could fill the bath in our changing room in only 3 minutes yet you could stand in the shower for an hour and not get wet! The damn things would only ever just trickle water. I always thought it was to protect those soft soccer players from being bruised!
What is your most memorable game and why?
Playing for Harbour against Counties in NZ NPC. My first match for Harbour and coming back from a 20 point deficit at half time after one of Bucks classic half time speeches.
I also have a great memory of the Jeff F club singing a specially written song for me in Italy (Not just during the game but everywhere I saw them before and after!)
My best premiership memories...Beating Northampton at home on St Paddys day 2001. Dick had just been sacked, everyone had written us off and we defended on our line for the last 20mins in a real battle of attrition. I was so tired and sore after that game I vomited blood! (Or was that after the St Paddys day party?)
Where was your favourite away ground?
Any French club ground. Very hostile and emotional. I loved the atmosphere however I never understood why you would need 2 bands playing different songs at the same time next to each other all game long!
I also liked the cheer leaders at Bath...I meant the cheers when we were leading...
Who do you consider was the best player you played with for London Irish and why?
Ryan Strudwick had a work rate like no other player. He did a lot of things on the field that are never shown on stat sheets like swimming 2 lengths of Sunbury pool UNDER water! Pretty cool eh.
Naka Drotkse was a pretty handy as a player. Another tightie who perfected the art of optical illusion fitness training.
Who where the characters at Irish in your time playing?
Nnamdi Ezulike, Jarrod Cunningham, Neil Hatley, Adrian Flavin all kept the banter in good spirits at the club. Dick Best is still the best entertainer out there. Players still recall his famous quotes. However the most memorable character I knew there was a guy called "Le Cock"! Actually James Cockle had more nick names than I can remember...Anyone from our Kenyan Excursion will know how great that man really is!
Do you still keep in contact with any of your old team mates?
Yes, I still see the Kiwis who came home (We like to catch a super 14 game together when Gary Gold or Naka bring their South African teams to town. Adrian Flavin and Colin Allan send me an occasional update of their life and times. I get a buzz when a supporter or old team mate turns up in Auckland and says hello. (I'm in the phone book). And I still keep in regular contact with a few supporters too. Hello to Steve and Larry!
Dick Best is renowned as a hard task master in your opinion is that true?
Yes he was a hard task master and I still have nightmares when I hear the words "still funny?" He was a master at psychological warfare and I honestly believe he could make the terminator break down and cry like a baby...Some people said he was "old school". I say only if it was "the old Joseph Goebbels school of propaganda and psychological principles"...Still, I do have a soft spot for Dick and look forward to seeing him again (seriously!)
Who was the best coach you played under at London Irish?
Brendan Venter in his

first

year.
Do you miss playing for London Irish?
Yes, Especially when I get together with some ex-players and reminisce! Dick Best quotes always bring a smile on...
Do you have any stories from your LI days?
What goes on the road...Oh to hell with that! I have some awesome stories which would fill a book but are not for young ears.
One clean story that comes to mind...We were having a team night out on the town in Dax when an unnamed player decided to rip the front pocket off the shirt of one of the younger players. Anyway, to cut a long story short, the whole team ended up with shredded shirts or no shirts at all. By the time we made it back to the hotel, a lot of trousers had been destroyed as well. Arriving enmasse didn't help things either and somewhere along the line, the kitchen was commandeered and a huge food fight broke out.
To avoid being fined for not wearing the proper shirt on the flight the next day I acquired the keys to a room certain player with a posh accent with a view of borrowing his. Unfortunately this player was not alone...Actually, this story isn't for young ears either.
I do have a confession though...When out late on the town in other countries, (which only happened occasionally cause I loved going back to the hotel early and reading), I had a bad habit of ripping peoples shirt pockets off...I think it may have been some kind of phobia!
What are your lasting memories of London Irish?
The craic, great team mates, The Three Kings, Belmont Bakery, St Paddys day party...But most of all was Macca singing the Bohemian Rapshody any chance he got!
You played Super 12 rugby before joining Irish, how different was the standard of rugby compared to the Premiership?
I only played a handful of games for the blues but found the two styles very different. The English premiership had a traditional big strong tight five and very structured offences. The S12 was more mobility focussed in the tight five and a lot more expansive in general game play however this style was starting to become more prevalent in the premiership in my last years there.
How easy was it to settle into English rugby?
Quite easy once I learnt how to practice in the freezing cold! (Turn your car heater on full until the last minute then run onto the field.)
What other clubs have you played for?
NZ clubs- Poneke and Massey, Wellington NPC development team, North Harbour NPC, Auckland Blues, Aurillac (France).
How different was French Rugby compared to English?
You only have to watch the two national teams to see the difference! I was never sure which Aurillac team was going to turn up on game day. They were so unpredictable and temperamental yet so passionate and fiery. The English game on the other hand was alot more predictable and constant. My main gripe about English rugby...Why don't they have Red wine and steak as their pregame meals?
Did you win any honours (inter-provincial/county/Barbarians/Maoris/Trialists etc.)?
Played for Germany in 2001 World Cup qualifiers.
You are still the only German International to have played in the Premiership, how did this come about?
Not sure how they found out about me but I was contacted by them enquiring whether I had German grandparents when I was playing in France. (My father was born there) However I never really considered their offer until one day when I was chatting to Brendon Venter about it and he said it was ok with him if I wanted to get a cap for my father! I jumped at the chance and loved every minute of it. As for bring the only German international to have played in the premiership, it would have been different if the bloody Americans didn't help you out in 1945!
When did you stop playing rugby?
I retired in Oct 2003 after being told that I needed surgery on my back to play again. I had already told Conor O'Shea it was my last year anyway so I came back to NZ and let the back heal on its own. It took about 2 years but the back is now back to normal although I'm 3 inches shorter and 12 inches wider..
.
Do you still watch rugby?
I have never missed one of my sons games! Watch this space...You will see a Fahrensohn playing rugby again! Love watching rugby on TV when I get time too...
When was the last time you attended a London Irish match?
Can't remember who we played but remember the supporters wishing me well on my retirement and just enjoying their company before coming home in 2003.
Which modern day player would you most like to play with?
Any prop that doesn't mind me not pushing in a scrum and can lift me without grumbling about my weight...I can't help it if I'm big boned!
Has rugby changed much since you stopped playing?
Not that I've noticed. Maybe the rucks are a bit cleaner and less rucking now days
Do you feel that today's rugby players play too much rugby?
No. Charles Dickens once said, "Its only their hard work now that's going to help evolve the human race into "356 games a year" playing machines that don't get injured..."
Are there any rules that you would like to see changed?
Yes. Don't let the Refs decide what rules need to be changed to "help the game"! How many refs have played in the front row?
What was your profession before becoming a professional rugby player?
Self employed Architectural designer
Who was your biggest influence on your rugby playing career?
A lock in Wellington called Richard Watt who took me under his wing and taught me the game and Buck Shelford for his inspiration and faith in me.
You played for North Harbour & the Auckland Blues, which was the better side?
Better at what? Blues would win a game of rugby but Harbour could "out-text" any team in the world on any given half time break...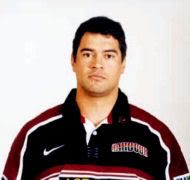 How hard was it playing away games in Australia and South Africa?
Didn't get to play in Sth Africa. Australia was very much like NZ. Didn't really see any Australians in Sydney. Its full of Kiwis, Italians, Greeks...
Did it take long to get use to the different time zones and get ready for playing?
Didn't really affect me. My theory was that if I was late all the time then sooner or later I'd be early! I also found sleeping a lot helps...
Who was your must difficult opponent in the Southern Hemisphere?
John Eales. I was a little over awed by his presence in my first game for the Blues against Queensland. He was a little under awed by my presence and to tell the truth, I don't think he knew I was on the field because he kept catching all my balls like I wasn't there...
What is your favourite New Zealand ground?
Harbour stadium. We had a phone in the changing room! And a beer fridge!
What tip would you give to a youngster who want's to be a rugby player?
Enjoy first, learn second, saviour the experience third and always always use other players toilets on away trips
.
I would also like to impart my wealth of knowledge about the weak points on shirt pocket stitching..."Never under any circumstances lose your poker face on an approach. Then aim high and pull diagonally left to right in a smooth yet powerful motion keeping eye contact at all times."
You are living back in New Zealand, what are doing for a living now?
I am a building inspector at the local council. I coach basketball and rugby and spend a lot of time ferrying my kids to different sports events!