Jarrod Cunningham needs little introduction, he was the top points scorer in the Zurich Premiership in the 1998/99 season. Around 4 years ago he was diagnosed with ALS (Amyothropic Lateral Sclerosis) a form of motor neurone disease. Now living back in his native New Zealand, he kindly answered my questions:
What is your date of birth/place of birth?
7/9/68, Hastings, New Zealand
When/where did you start to play rugby?
Havelock North Rugby Club - Age 5
What was your favourite position?
Fullback, because of the freedom to counter attack.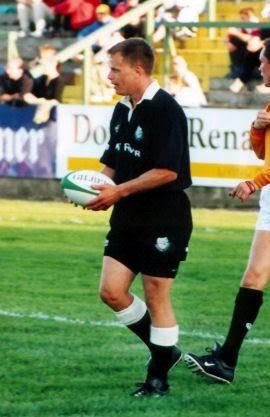 Having just scored a try against Munster
When did join London Irish and how many games did you play?
October 1998, I played 82 games.
How many points did you score in your London Irish days?
Approx 900
What brought you to London Irish?
I heard that Steven Bachop was going to Irish and an agent contacted me and asked me if I would like to play for London Irish, and I ended up flying over with Steve Bachop.
What was the training like?
The training was a lot longer than training in New Zealand, but at the same time it was character building.
Who did you room with on away matches?
It was normally someone different every time.
Who was your most difficult opponent whilst at Irish and why?
There were mainly good oponents in the premiership, but there was no one in particular.
What was Sunbury like when you played there?
It was awesome, although it was small and struggled to handle the crowds, it had an awesome character.
How did playing at the Stoop differ?
The facilites were really better particularly for the after match, I enjoyed playing at the Stoop as well, although Sunbury felt more like home.
Which ground did you prefer to play on Sunbury, The Stoop or The Madjeski?
Sunbury for the atmosphere, the Stoop for the after matches, the Madjeski for the ground.
About to kick a penalty at Ebbw Vale
What was your favourite away ground?
Saracens, Vicarage Road.
What was your most memorable game for Irish and why?
Any good team wins.
Who do you consider was the best player you played with for London Irish and why?
Conor O'Shea, a true professional.
Who where the characters at London Irish in your time playing?
There were a lot of guys who were characters but a few who stand out are Robert Todd, Justin Bishop, and Andrew Mower.
Do you still keep in contact with any of your old team mates?
Yes, I keep in touch by email with a few of them.
Dick Best is renowned as a hard task master in your opinion was this true?
Yes, in hindsight I feel we were over-trained, but Dick Best had an awesome sense of humour and a shrewd wit.
Do you have a favourite Dick Best story?
One year Steven Bachop and myself were heavily intoxicated on a Sunday, and we were play fighting near the Slug and Lettuce, and we ended up on the ground only to look up and see Besty looking down at us. We went in the pub with Besty, and the next day he consequently flogged us at training.
In your opinion which season had the strongest team?
Hard to say, different teams and different players.
Do you miss playing for Irish?
No. That was then, and the memories remain.
When was the last time you attended a London Irish match?
2004.
Do you have a favourite story from your Irish days?
Had a great day out at the church for our end of season one year.
What are your lasting memories of London Irish?
Awesome supporters, awesome team mates, awesome management, the Three Kings.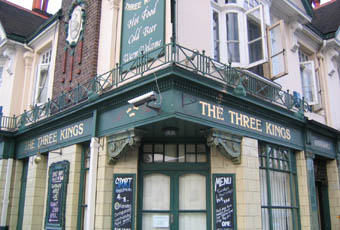 Riki Flutey credits you (& Stephen Bachop) as the reason why he joined Irish. What did you say to him?
Just that Irish was an awesome club to play for.
What other clubs have you played for?
Havelock North, OPSB, Seattle Washington, Maryland Exiles.
How did it feel to beat the British Lions when playing for Hawkes Bay?
Awesome, I only wish my goalkicking was better that day.
Which was your favourite ground to play on in New Zealand?
McLean Park, Napier.
You played Super 12 rugby before joining Irish, how different was the standard of rugby compared to the premiership?
A lot faster in the Super 12 and less kicking.
Which was the better side Auckland or Wellington?
Auckland, because of the amazing team it was, and the players in the team.
How easy was it to settle into English rugby?
I felt it was easy because of the supporters and the team mates.
Did you win any honours (Barbarians/Trial/County/International etc)?
NZ Maori, All Black trials.
What are your memories of your All Black's trial matches?
Awesome experience and played with some awesome players.
How many games did you play for the Maoris? And do you have a favourite match?
About 7 or 8 games for them. Not really.
Do you still watch rugby?
Yes, all the time.
Do you get to see much/any English rugby on NZ TV?
Yes.
Which modern player would you have liked to play with?
Dan Carter.
Who was your biggest influence on your rugby playing career?
Most of my coaches.
What was your profession before playing rugby?
Freezing Worker, Slaughterhouse.
Are there any rules that you would like to see changed? Not really.
What tip would you give a youngster who wants to be a rugby player?
To be a professional you have to think like a professional and to believe in the power of the mind.
How does it feel to be back in New Zealand?
Awesome.
How is your treatment going?
My rehabilitation of my mind, body and spirit is going well
How is your cycling going (I understand you got a tricycle from the USA)?
Now summer is approaching, I hope to be out on my bike a lot.
Are you still doing 6 days of being active and Saturday off for watching rugby?
My training varies from day to day.