Glenn Delaney these days is the Director of Rugby at Nottingham RFC. A few years ago he was one of our Cup winning second row forwards. During a break in training ahead of this weeks game away to Doncaster Glenn kindly spared some time to answer some questions: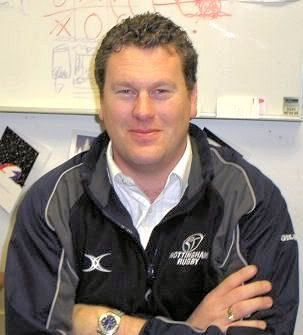 What is your date of birth/place of birth?
Born Timaru NA 16 11 73
When/where did you start to play rugby?
1978 in Temuka NZ
Have you always played in the second row?
Played fly half until 14 then grew too much and got too slow. Figured out that if you loose your pace early then no one says your too slow to play now.
When did join London Irish and how many games did you play?
Joined in 2000 played 65 odd games
How many points did you score in your London Irish days?
Around 20
What brought you to London Irish?
Dick Best, was really a chance for me to play premiership having played in Div 1 previously
What was the training like?
With Dick it was all about mental toughness, He flogged us to within an inch of our lives which did mean we played for each other. There were some absolute beastings including the day we did a 7 k run in the morning followed by 18 250's followed by weights.
Who did you room with on away matches?
Usually Cowboy Halford, I did get Chris Sheasby on two pre season tours and all I heard was "Baby you know your baby loves you Baby " Sheas was like a Bat who came to life in the dark hours of the night. I sent him to the bathroom at 2am once because he was still on the phone to a "friend"
Who was your most difficult opponent whilst at Irish?
Martin Johnson because you always wanted to test yourself against the best, He always got my best game and probably everyone else's because he was No 1 in the world then.
Which ground did you prefer to play on Sunbury, The Stoop or The Madjeski?
The Mad Stad is the best rugby venue in Europe even when playing against Irish it was a great place to play.
What was your favourite away ground?
The Stoop. Never lost there and they always hated us winning there. Probably a better home ground for us than them
Which away ground had the best atmosphere?
Kingsholm
What was your most memorable game for Irish and why?
Cup quarter final against Bath away – all 4 Locks on the field at one time Williams, Strudwick, Fahrenshon & Delaney. We had so many injuries that Steve and Strudders played in the back row. That game typified how much belief we had in each other as a team boosting us on toward the final.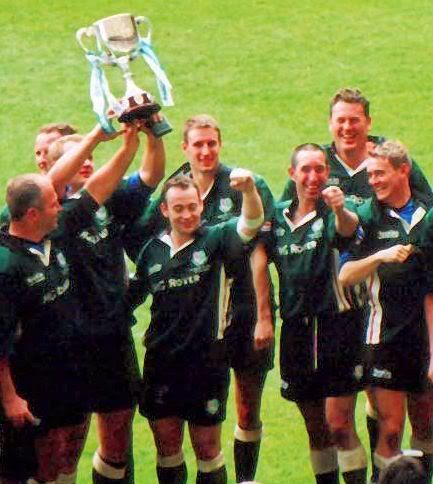 Who do you consider was the best player you played with for London Irish and why?
In my time we never had true Rock stars, everyone had a great work ethic. But you could always count on Naka Drotske to do his job under big pressure like throwing 2 lobs against Bath with Grewcock and Borthwick trying to steal it. The bigger the occasion the better Naka was. Also a top bloke off the field
Who where the characters at London Irish in your time playing?
Jimmy Cockle, Nambdi Ezulike, Cowboy Halford was a Bloody Good Bloke, Jed Wright was always too old to play the game. We had our share of man giners also "Everett, Mapletoft, Edwards" they got it on a regular basis. Bob Casey was also the only bloke in the team with a head bigger than mine!!
Do you still keep in contact with any of your old team mates?
Yes I see Steve Williams a lot, Neal Hatley is helping me with Scrum coaching this season, Jarrod Cunningham still emails each day. It's always good to catch up with guy's on the circuit.
Dick Best is renowned as a hard task master in your opinion was this true?
Yes, he was a tough bloke, individually I liked him and got on with him. His one liners are still some of the best in the business. He could however take it too far. There are group of guys who were involved when Dick was at the club who are mentally harder for the experience. Mind you whenever you meet up there will always be a Bestie story or two, still one of the most talked about men in Rugby!!
How good was the London Irish side you played in? (or) Which season had the strongest team?
The year we won the cup was fantastic not just for that but the way we played and how hard we all worked all year. Everyone contributed to the way we played and we all bought into some new ideas like up and in defence. Brendan was single minded in his approach and for that year it worked.
Do you miss playing for Irish?
I do miss playing it was a great time, having retired injured you would still want to be out there. Having crossed to the dark side I miss the banter which being part of a team promotes but having a group of young talented players responding to your coaching is incredibly rewarding.
When was the last time you attended a London Irish match?
When I played against them for Narbonne. I got a great reception from the crowd and Macca got me some Irish goodies which I really appreciated. It was my last match as a player as my ankle simply never recovered. A nice way to go out at my home ground.
Do you have any favourite stories from your Irish days?
The infamous Richmond Times story that was blown up after a night out – I think 8 riot vans were called for and we only order a taxi!!
How different was the standard of rugby in France compared to the Premiership?
It was more emotional less technical. The French get themselves up for the home games but don't worry about the away stuff so much. It is a bit like amateur rugby with money and therefore was enjoyable from a lifestyle prespective. We had Irish over on pre season so that was one of the highlights and I loved to café culture.
What were the major differences between Narbonne and London Irish?
The coaching standards were very different. It was hard to adjust to a lack of organization. But once you were over that it was a great place to be. It is still just a game to them not so much a job
What other clubs have you played for?
Nottingham, Coventry, Toyko, Linwood
What was rugby in Japan like after playing in New Zealand?
Japan was brilliant, such a culture shock, the rugby was not a great standard but the experience was fantastic, and I met my wife there! I still go back to Japan as often as I can because the food there is the best in the world.
Did you win any honours (Barbarians/Trial/County/International etc)?
Played Barbarians
(Against London Irish Allstars in 2003 & Leicester 2004)
Who was your biggest influence on your rugby playing career?
Wayne Smith was the Canterbury age group coach when "I came thru, he set the standards that I wanted to follow. Coaches like Brendan Venter gave me a different perspective which was great
What was your profession before playing rugby?
Recruitment
You are Director of Rugby for Nottingham RFC, what brought you to Nottingham?
Nottingham was my first club in the UK. They asked me to coach the forwards when I retired. The DoR then left and Ken Grundy the Chairman asked if I would become the first full time DoR of the club.
What are your ambitions for Nottingham?
To consistently be in the top 4 of the division giving us a chance to shoot for the premiership
What to you prefer coaching or playing?
I am getting further away from being a player and now coaching is very rewarding. You do start to live, breath, eat the game though but I do love the challenge.
You have Tim Stimpson as your Backs Coach, how big a influence is he?
Stimo is a great character and a good coach. He is bringing a greater level of mental toughness to our back play. Top bloke even though he is from Leicester!
Kevin Brennan is one of your scrum-half's how is he playing?
Kevin has been one of our best players. He captained us for the second half of last season and was great to work with. I always rated him at Irish but he never got much of a run.
As a National League One DoR would you like to see the Premiership club's back in the Cup?
Yes, obviously. The cup is a bit of a throw away for Nat 1 now as the biggest game is against one of the other teams in this division we are not able to test ourselves against the best which is what we need.
How mindful are you of player burn-out or is this not an issue in the first division?
Our season is 34 games long so burn out and rotation is a big issue. We have a mix of pro and semi pro players so there are other factors that contribute to players not being available such as work, family etc
Do you a player we should keep an eye out for?
Last season 5 of the guys here got premiership contracts so there are players here that are worth a go higher up. Nick Rouse is one to mention
What tip would you give a youngster who wants to be a rugby player?
Get an education first. Rugby's great but when it's over you have to start again
Where do you see yourself in 10 years?
With Nottingham in the Premiership what ever form that takes.
If you could sign any player for Nottingham who would it be?
David Lyons would be a legend in Nat div one as he is a big ball carrier. Leguizamon or Phil Murphy would be damaging also
Nottingham rugby can be found at:
http://www.nottinghamrugby.co.uk