Guy Beringer
Guy Beringer today is a Senior Partner of an International law firm, 26 years ago he was in the middle of a London Irish front row facing the Leicester ABC of Cowling, Wheeler and Redfern, in London Irish's first ever national Cup Final. He spared some time to answer my questions:
What is your date of birth/place of birth?
12th August, 1955 in Singapore
When/where did you start to play rugby?
At Cabin Hill School in Belfast when I was about 10
Have you always played Hooker?
Yes - that had been my father's position and it seemed the natural thing to do. I was probably neither large enough nor skilful enough to play anywhere else
When did join London Irish and how many games did you play?
I joined London Irish in 1977. I do not know how many games I played but I had, at one stage, a 3 year period when I played 100 consecutive games so the final total would have been considerably greater than this.
How many points did you score in your London Irish days?
I scored a try on my debut against Bedford but then had a barren period lasting some years!
What brought you to London Irish?
Walter Jones, who had preceded me at Campbell College and Cambridge, suggested I should come down after leaving University.
Who was the coach?
Pat Parfrey
Who was/were the Captain(s)?
John O'Driscoll, Duncan Leopold and Mike Smythe
What was the training like?
I recall that it was always a challenge to leave work, travel to Sunbury and then be sufficiently motivated to train well. At one stage, we trained on Tuesdays at the Duke of York's barracks in town. Thursday's training was the match preparation but it was often disrupted by absences
Who was your most difficult opponent?
There were almost all difficult. Phil Keith Roach
(England's specialist scrummage guru)
was the most argumentative
What was Sunbury like in your time playing there?
The pitch drained poorly and was not a great surface but the ground was a friendly and enjoyable place and had a sense of community
What was your favourite away ground?
We always played well at Old Deer Park
Who do you consider was the best player you played with for London Irish?
The 1980 team had very talented players in a variety of positions. It would be invidious to pick any of them above the others
Who where the characters at London Irish in your time playing?
There were a number of strong characters. Pat Parfrey was mercurial. Alex Newberry was always cheerful and reliable, although frequently suspended. Mike Smythe was a natural leader, although it was not always wise to follow. Hugh Condon was in a state of permanent relaxation without any apparent resort to unlawful substances. John Casalaspro was a natural comedian although he always knew where the try line was. Roger McKibbin was fiercely competitive and challenged for everything. It was a very interesting group!
Do you still keep in contact with any of your old team mates?
I am still in contact with Alex Newberry , Roger McKibbin, Tom Hennessey , Peter Enevoldson and Walter Jones
You played in the 1980 Cup Final, what are your memories of that day?
We did not perform to our ability and Leicester were too experienced for us. The main memory is one of disappointment at not showing what we could do
1980 Programme picture
You replaced Ken Kennedy as first choice hooker for London Irish, how did this feel?
It simply seemed a natural progression as Ken retired.
How good was the London Irish side you played in?(or) Which season had the strongest team?
The 1980 team was very strong but unfortunately did not stay intact long enough to develop to its full potential. There were a number of very talented players and it was an enjoyable group to be a part of.
The professional London Irish team is no longer a team for Irish/ Irish descent players, what are your feelings about this?
This is sad but was the necessary price for staying in the top division. We should be glad that the club has made the transition successfully
Do you miss playing for London Irish?
No - my body was greatly relieved when I retired!
Do you have a favourite story from your playing days?
Yes, but I cannot tell it. I do, however, recall playing in the Middlesex Sevens at Twickenham when we were due to be in Dublin for a sevens competition the next day. When we arrived, someone realised that the final was scheduled for a time after our Heathrow check-in deadline. Someone asked how we would resolve this potential problem. Duncan Leopold was the captain and was sitting in the corner reading his programme. He looked up and said: "Lads, I've looked at the draw. Don't worry, we'll catch the plane". He was right!
Did you go on any overseas tours with London Irish?
Canada and Nigeria (which were somewhat different)
How difficult was it for London Irish to put out a XV on Inter-provincial weekends?
Sometimes there would be four or five missing but the team had sufficient strength in depth
Did you ever play for an Irish Province(if so which one?)
I played for Ulster for several years
Did you ever play Inter-provincial rugby one day and for LI the next?
I cannot recall this
Did you play for any other clubs?
None, apart from Cambridge University
Where you ever capped at International level(at any age group)?
I was at one stage in the "B" squad but did not get off the bench during the game
You went to Cambridge University, did you win a Blue?
Two - in 1975 and 1976
If so, what are your memories of that day?
We won on both occasions so they were happy if rather blurred memories. The only specific thing I remember from the first one was Peter Warfield's warning that the step up from the tunnel to the pitch at Twickenham in those days was rather steep and that it would not look good to fall onto the pitch! It was a very talented team and we won by a record margin. None of us fell over on the step
Did you play County rugby, if so who for?
I played for Kent and for Surrey
How different was County rugby compared to playing for London Irish?
County rugby was not well organised and there was little preparation
Who was your biggest influence on your rugby playing career?
Probably my teachers at Campbell College where the sport was thoroughly and seriously taught
Do you still watch rugby?
I watch internationals occasionally and follow televised games
Are you still involved in rugby?
I have no direct involvement
When was the last time you attended a London Irish match?
I have not attended a match for some years now
Sunbury or Reading, which do you prefer?
I have to admit that I have not been to the Reading ground so could not give a view
In your opinion should London Irish build their own ground?
I am not close enough to things now to express a view on this
Has your old position changed since you played?
It has changed considerably. The scrum is largely uncontested in terms of hooking skills and the emphasis is now on ball carrying and line-out throwing
Which modern day player would you have liked to play with?
I would like to see if I could hit Paul O'Connell in the line-out as well as watching Brian O'Driscoll from on the pitch
Do you prefer the rugby of today or when you played?
It is much more entertaining now and the game has improved dramatically as a spectacle
Are there any rules you would like to see changed?
I would like to see penalties being accorded points by reference to the severity of the offence - a technical infringement, say, should be worth one or two points whereas foul play or deliberate infringement could be three or four. The referee could have discretion to award a four point shot at goal where the infringement is close to the line. I think this would improve the game further as a spectacle
Are you related to the F.R. Beringer who played for London Irish & Cambridge in the 1950's?
Yes - he is my father and is still going strong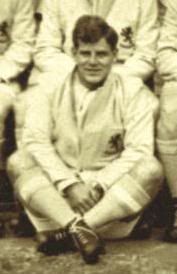 F.R. Beringer, Cambridge University 1951
What is your occupation?
I am the Senior Partner of Allen & Overy LLP, an international law firm
Can you give a brief resume of your career?
I joined Allen & Overy as a trainee in 1978, became a partner in 1985 . My area of practice was corporate and M&A work. I became Senior Partner in 2000 and my time is now taken up with managing the firm's affairs. We employ over 4,000 people (about half of whom are in London)and have 26 offices around the world so I spend a considerable amount of time travelling